GAZ-14 Chayka
An updated version of the 1959 GAZ-13 Chayka. The same cruciform frame, but completely new body, front suspension and braking system. 5.53 L aluminum V8 engine got better flowing heads, two 4-bbl carburetors and hydraulic valve lifters; it was mated to an updated version of the 3-speed automatic transmission with floor shifter. Air conditioning was standard equipment.
Produced in 1976-1988, 1,114 built.
GAZ-3102
GAZ-3102 Volga was based on GAZ-24 central body shell, but external sheet metal was almost entirely different, as well as the interior, and the chassis received a thorough update, including front disk brakes with vacuum assist and better front suspension geometry.
The bitter irony was that, while this model was conceived as a complete replacement for the GAZ-24 line, in reality it – for multiple reasons – quickly became some kind of an "elite" car, even compared to other Volga models, forcing GAZ-24 to stay in production for another decade as the plant's mainstream car.
Despite the earth-shattering changes in the automotive landscape of Russia during 1990s and 2000s, GAZ-3102 was still offered, now as the "classic" alternative to the more modern looking Volgas from this era – which was what some people still wanted. Starting in 1994, it started to be built on a slightly different platform shared with the mass-produced Volga cars, which required some modifications – such as relocating the fuel tank to behind the rear axle (early 3102's had a unique rear floor pan that allowed the fuel tank to be mounted behind the backseat to make it less vulnerable in a collision, but that feature was not inherited by the later Volga models because it was unsuitable for a station wagon, and wagons were a very important part of the mainstream Volga model range).
The initial version (1982-1994) employed a "torch-ignition" engine (2.5 L, 102 hp), that – just like most "lean-burn" engines of 1980s – seemed to be a good idea "on paper", but never worked "just right" in real life. Later on, more conventional 2.5 L ZMZ-402 pushrod engines were installed (until 2005), as well as DOHC, EFI ZMZ-406 (2.3 L), 405 (2.5 L) & Chrysler EDZ (2.4 L).
It was the longest-lasting car model produced by GAZ, with a 26-year production run from 1982 to 2008 (about 156,000 built).
GAZ-31029
This model was essentially a stop-gap between the last "classic" Volga models, with "old-school" chrome-laden styling, pushrod engines and kingpin suspensions, and the "modernized" models of late 1990s & 2000s.
Initially a cheapened-out version of GAZ-3102, with GAZ-24-10 floor pan & mechanicals and different frontal styling, later it was used by GAZ as a testbed for the modern features that it was gradually introducing into its cars during 1990s, such as DOHC engines, overdrive gearboxes, power steering, power windows, air conditioning, metallic paints, etc.
GAZ-31029 essentially saved GAZ during the difficult times of early 1990s, when medium trucks that had been the bulk of the plant's production during the Soviet era were not in demand, and the GAZelle family of light trucks was not yet ready for launch. However, it is mostly remembered for the terrible drop in build quality that it suffered from, and especially its notoriously rust-prone body.
521,650 cars built in 1992-1997.
GAZ-3110
Not a clean-sheet design, but in some sense close to that, as it was the greatest departure from the original GAZ-24 platform made since early 1980s. Body received new, more rounded roof panel, trunk lid, quarter panels and, later in production, color-keyed fiberglass bumpers.
Chassis was almost completely new (still with a lot of carryover parts, though, as for budget reasons they wanted to reuse as much as possible, and backward compatibility with earlier cars was also a serious concern). Even the wheels bolt pattern changed from the old 5×139.7 / 5×5.5″ to 5×108 mm – for the first time in the history of GAZ cars, no less. Ball-joint front suspension finally replaced the kingpin design in 2003, marking the end of an era for GAZ cars.
The exterior styling was… polarizing. Some people liked the added modern features, while the others considered it a tasteless mish-mash of old and new. Color-keyed fiberglass bumpers were added in the middle of the production run, improving the looks, but also making the car less practical and more expensive to repair after a collision.
The interior, on the other hand, was probably the best any Russian car could offer at the time, both in appearance and material quality. It had been light grey initially, but later most cars got more conventional black dashboard and door trim panels.
In any case, despite being tirelessly criticized and even ridiculed by automotive press (for the self-obvious reasons), this model was extremely popular in its day, mostly because of the low price (after the 1998 financial crisis it was probably the least expensive car of this size in the entire world, at US $3000…5000, depending on body type, engine and equipment). It was also the mainstay of taxicab fleets all over the country.
582,606 were produced between 1997 and 2004.
GAZ-31105
A slightly restyled version of the 3110 with more modern headlights, taillights and more practical ABS plastic bumpers.
Build quality was also significantly improved, as well as rust protection, which by 2006 included DuPont Herberts cataphoretic primer for the body and Waxoil or Mercasol treatment of inner cavities and panel seams, which reduced corrosion problems to a minimum and allowed the plant to provide a 6-year warranty against rust, unprecedented at the time for a Russian car manufacturer. A completely new interior designed by EDAG was introduced in 2007. By that time, a lot of cars had the Chrysler engine (more than one third of production).
It was a good and reasonably popular car, despite its outdated underpinnings. However, after 2006 less and less cars were sold with each passing year. The taxicab market was also being lost to the more modern FWD Korean and Romanian cars, slowly, but steadily. The Volga still soldiered on until the 2008 global financial crisis; the last cars were assembled in the fall of 2008.
Totally, 190,603 were built in 2004-2008. Apparently, some cars were marked as produced in 2009, but in fact by that time the manufacturing equipment already had been scrapped.
Coil spring rear suspension was designed for this car as the last part of the "modernization package", but it never entered mass production because at the time GAZ wanted to spend as little money as possible on its RWD car line (the version with coil springs would've been called 31107 if it had entered mass production).
---
GAZ-3105
A completely new car with all-wheel drive and a small V8 that was designed to replace the entire Volga and Chayka lines. It was unfortunate in being born at a time when it just wasn't needed anymore. In never entered mass production, only 55 were batch fabricated in 1992-1996.
GAZ-3103 and 3104 were the "cheapened-out" versions with, correspondingly, front and rear wheel drive and four cylinder engines (prototypes only).
GAZ-3111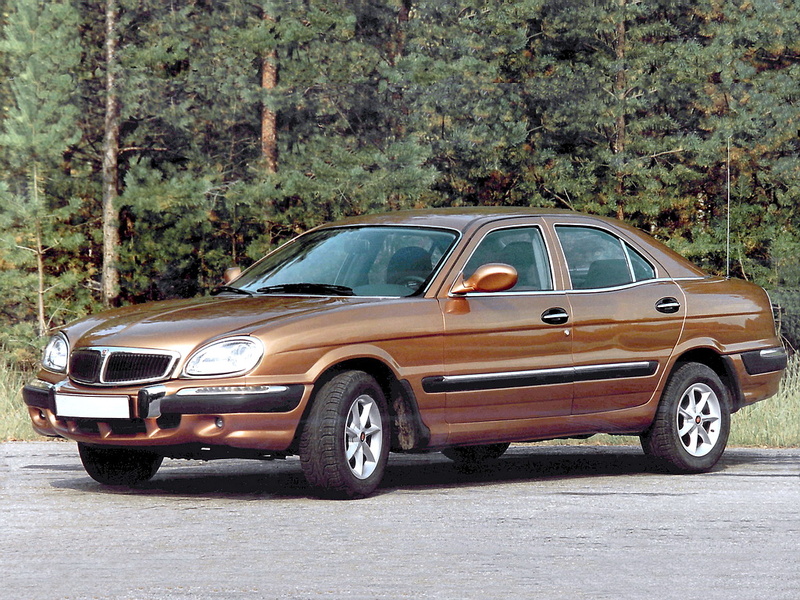 Entirely new body, completely new front suspension and rack-and-pinion steering; old live axle with leaf springs in the rear (coil springs were used in the original project; there were even shock towers for them stamped into trunk floor of all production cars, but alas).
In 1998 it was introduced to the public with great pomp as the GAZ car of XXI century, but didn't take root. 414 were assembled in 2000-2002, several more in 2003-2004.